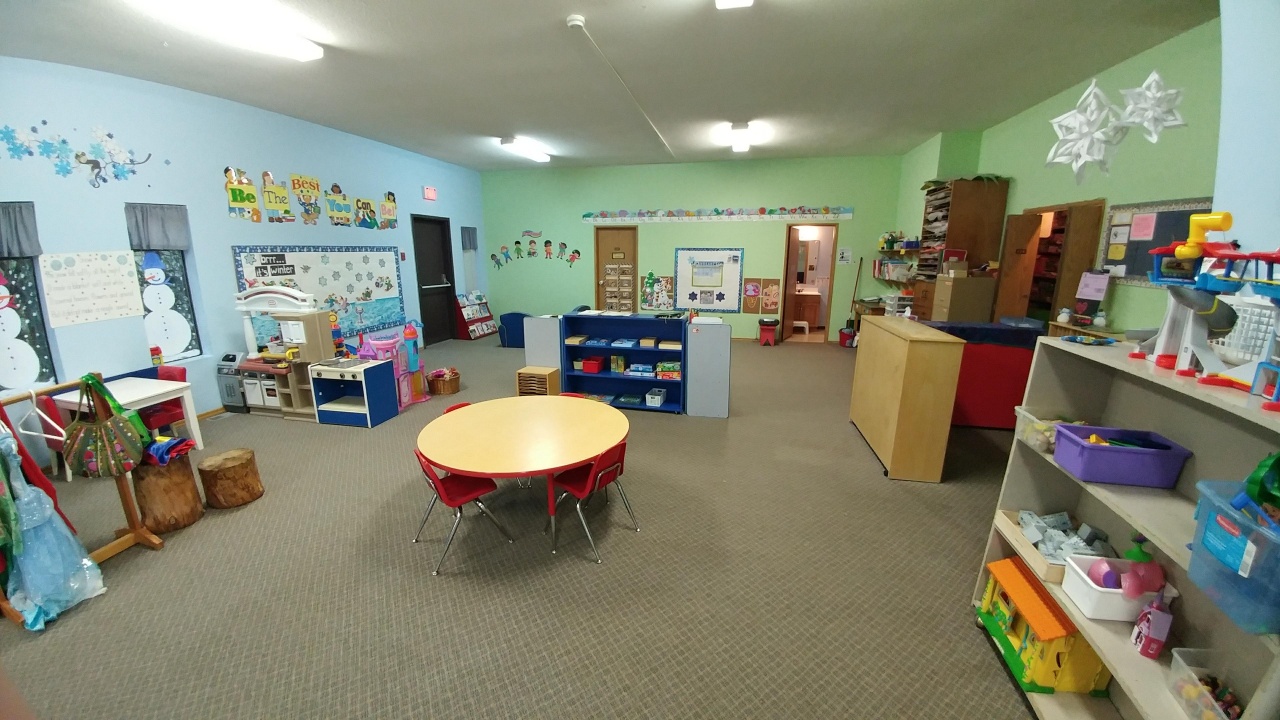 9
This program is for children from 2 ½ to 5 years of age. Our Daycare program offers free play, crafts, gym, outside playground, phonics, and circle time, where the children experience weekly educational themes. The goal of this program is to provide child-centered, play-based learning experiences in a safe and nurturing environment that fosters growth and development socially, physically, intellectually, creatively, and emotionally.
A normal day in our Daycare Program looks like this:
7:00 am - 10:15 am Free Play
10:15 am - 10:30 am Snack
10:30 am - 11:30 am Circle Time & Centre Time (science experiments, math activities, games, cooking, art, etc.)
11:30 am - 12:30 pm Indoor/Outdoor Free Play
12:30 pm - 1:00 pm Lunch
1:00 pm - 2:45 pm Nap time/ Quiet Time (children that are awake at 1:30 pm will go play in the gym)
2:45 pm - 3:00 pm Snack
3:00 pm - 5:00 pm Indoor/Outdoor Free Play
5:00 pm - 6:00 pm Quiet Play
Phonics program on Mondays. Show & Tell and Hot Lunch ($2.00) happen once a month. There are generally three planned field trips each year which include the Pumpkin Patch, Play Abby, and Mill Lake Park. Transportation for these trips is provided using the Open Door's 24-passenger bus. Occasionally we will go on spontaneous trips as well.
The coordinator for our Daycare Program is Ms. Hia. She has been working at The Open Door since 2004. She has her Early Childhood Education certificate as well as a Bachelor's Degree in Computer Science and Statistics. Ms. Hia lives in Abbotsford, been married to her husband since 1991 and also enjoys travelling, being outdoors, gardening, reading, and eating spicy food.
Ms. Hia is assisted by Ms. Miae, Ms. Chrystal, Ms. Michelle F., and Ms. Anne.
Ms. Miae moved to Canada in 2000 to study and has been working at The Open Door since 2007. Miae has her Early Childhood Education Certificate as well as a Master's Degree in ECE that she received in Korea. Miae and her husband have been married for 34 years and they have two sons and a grandson. Miae enjoys reading, playing piano, and listening to music.
Ms. Chrystal has Early Childhood Education-Assistant Certificate as well as a Diploma in Social Work. Ms. Chrystal has a cat named Cinder and enjoys hiking, being outdoors, and drawing.
Ms Michelle started working at The Open Door on September 2018, she has an Early Childhood Education Certificate and First Aid. She is a twin and comes from a large family with lots of brothers and sisters. Her passions in life are God, children, family, agriculture, geology, wilderness, animals and animals science.
Ms. Anne is married and has three daughters and three grandchildren. She attended MTI Community College where she received her Early Childhood Education Certificate. Anne worked at The Open Door for three years before taking a year off and is now back working part-time. In her free time, Anne enjoys the outdoors and spending time with her family.