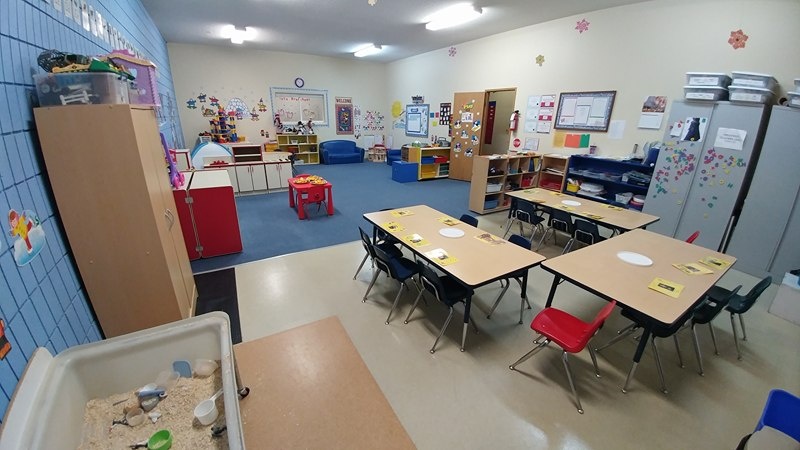 Our preschool program is for children 3 and 4 years of age. Our preschool program offers many fun and interactive ways to connect with their friends through….
Free Play: sensory table, playdough, table top toy manipulation, science, dress up and library station
Imagination: arts and craft activities
Games: small and large group games
Large Muscle Play: indoor gym and outdoor playground
Circle Time: monthly/weekly themes are taught through finger plays, felt stories, music and songs
Kindergarten Readiness (4 year old classes): phonics program and fine motor development
The goal of our program is to provide child-centered, play-based learning experiences in a safe and nurturing environment that fosters each child's total growth and development socially, physically, intellectually, emotionally, and spiritually.
Our Daily Schedule
Monday/Wednesday/Friday AM Tuesday/Thursday PM Tuesday/Thursday
8:45am Arrival/Table Toys 9:00am Arrival/Table Toys 12:15pm Arrival/Table Toys
9:15am Circle/Craft Time 9:30am Circle/Craft Time 12:45pm Gym
10:15am Gym 10:15am Gym 1:15pm Circle/Craft Time
10:50am Snack Time 10:45am Snack Time 2:00pm Snack Time
11:10am Free Play/Outside Play 11:00am Free Play/Outside play 2:20pm Free Play/Outside play
11:25am Clean Up/Home 11:10am Clean Up/Home 2:25pm Clean Up/Home
*Calendars for each month are provided to give more specific information about field trips and special activities/events